A five story family-entertainment complex featuring 4 distinct worlds of interactive entertainment as well as theme dining and shopping experiences.
Guest entering DisneyQuest® begin their journey at the Ventureport, a crossroads leading to four different zones of adventure:
Virtual Jungle Cruise – Hop on a raft with other team members, plunge down a prehistoric river in the Dinosaur Age and hang on for dear life as you try desperately to avoid "deadly" obstacles in the running rapids. You may even get splashed!
Aladdin's Magic Carpet Ride – Enter the immersive, magical world of Agrabah as you put on a virtual-reality helmet and go on a whole new adventure. Take a magic carpet ride with beloved Characters from Disney's "Aladdin." It's a trip you'll never forget!
Pirates of the Caribbean - Battle for Buccaneer Gold – Put on your headpiece to inhabit a world booming with swashbuckling action. Steer your ship, fire cannons at marauding buccaneers and race for the gold!
Treasures of the Incas - Drive camera-equipped radio-controlled cars on a thrilling treasure hunt.
Magic Mirror: - Give yourself a virtual makeover
Living Easels - Create a living painting
Cyber Space Mountain: - Design your own roller coaster on a computer, with special assistance from Bill Nye the Science Guy. Make it as scary as you want. When you're done, jump in a simulator and ride your creation in full 360° motion… if you dare!
Sid's Create-A-Toy: - Create a mutant toy from a vast menu of parts - and take it home for real!
Animation Academy – Be a Disney animator! An instructor takes you through the process of drawing a Disney Character. You won't believe what you are capable of creating!
Radio Disney SongMaker - Produce your own music by selecting from more than 20 musical styles and 1000 vocal performances.
Buzz Lightyear's Astroblasters – Pilot your own futuristic bumper car in a battle where you're always under attack. Fight back by scooping up "cannonballs," loading them into your blaster, and firing away at the other cars. It's an asteroid-blasting game unlike any other!
Mighty Ducks Pinball Slam - Become a life-size pinball as you bounce off bumpers and flippers to score points and compete to become the Mightiest Duck of all!
Midway on the moon - Play for prizes on games of skill. (additional card required. Cards available inside in different $$ amounts)
Ride the Comix – Don your virtual-reality helmet and become a superhero, engaging in a cyber battle with comic book villains. Swing your laser sword in a fight to the finish!
Invasion! An ExtraTERRORestrial Alien Encounter – Launch into the cosmos aboard your own virtual-reality spaceship. Rescue humans kidnapped by aliens to become the hero in this breathtaking outer space adventure.
The Wonderland Cafe - featuring indulgent desserts, drinks and Wonderland Web Adventures, a proprietary Internet-based attraction. Guests may send a postcard over the internet to a friend, record their visit in the "Eternal Journal" which can be accessed through the internet and surf the internet.
FoodQuest - offering a quick gourmet fix of fresh sandwiches, salads, pizza and fun foods (operated by the Cheesecake Factory)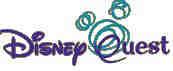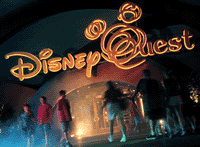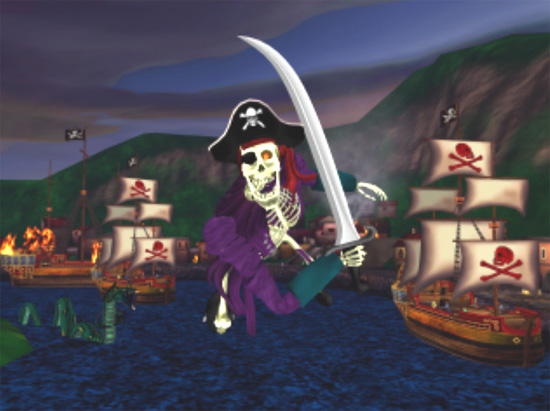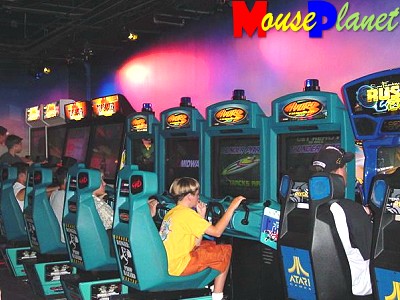 1. Explore Zone - a virtual adventureland where guests are immersed in exotic and ancient locales.
2. Create Zone - a private "Imagineering" studio for artistic self-expression and invention
3. Replay Zone - a carnival on the moon where guests experience a retro-futuristic spin on classic rides and games
4. The Score Zone for Superhero Quests