Busch Gardens Tampa Florida
Call 407-396-7508 or 866-966-7508 to order your tickets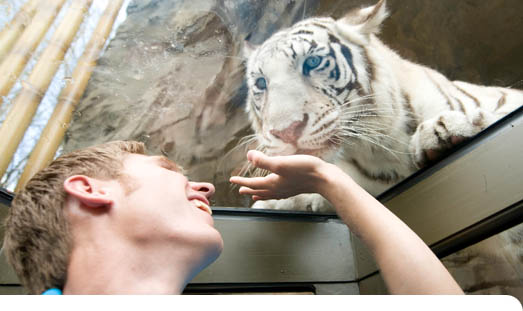 Busch Gardens - Tampa Bay Florida -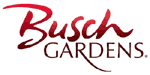 Busch Gardens is the ultimate family adventure park offering an array of fascinating attractions based on exotic encounters with the African continent. A unique blend of thrilling rides, one of the country's premier zoos featuring more than 2,700 animals, live shows, restaurants, shops and games, Busch Gardens provides unrivaled "real" excitement for guests of every age. Busch Gardens was recently rated the most popular theme park in Florida among residents of the Tampa Bay area.

Busch Gardens Atractions

Gwazi - MUST SEE! - Gwazi is Busch Gardens Tampa Bay's mammoth double wooden coaster. It is also the Southeast's largest and fastest double wooden roller coaster, boasting more than 1.25 million board feet of lumber and more than 2 million bolted connections. Named after a fabled lion with a tiger's head, Gwazi races riders through almost 7,000 feet of track and is in reality two distinct coasters intertwined.
---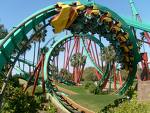 Kumba - Come try Kumba, one of the world's best roller coasters! After the blood-curdling thrill of an initial 135 foot drop, you will plunge from 110 feet into a diving loop, feel a full 3 seconds of absolute weightlessness while spiraling 360 degrees, and tear through one of the world's largest vertical loops.
---

Python - MUST SEE! - Experience the twists of the Python. This thrilling roller coaster will make you scream through a double spiraling corkscrew and an intense 70-foot plunge -- just for starters!
---

---

Scorpion - Feel the "sting" of Scorpion's terrifying 60-foot drop and 360 degree loop at incredible speeds. You can find the Scorpion in Timbuktu... If you dare!
---

Jukebox at the Grill - Jukebox at the Grill is a music revue that journeys back in time with song and dance tributes to the past four decades. Colorful costumes, themed set designs, memorable songs and dance moves honor the heydays of music past, including the '50s, the Disco era and the '80s.
---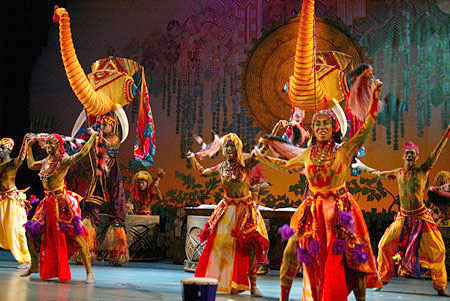 KaTonga - MUST SEE! - KaTonga takes you on a journey to the heart of Africa in a 35-minute musical celebration of animal folklore. The show follows a day in the lives of aspiring storytellers, called Griots, as they strive to become masters of their craft. To accomplish this rite of passage, the performers evoke traditional African stories that mesmerize and entertain! Masterful puppet design, magical folklore, energetic original music and spectacular African-inspired dance combine to create the first theme park show of Broadway-production caliber.
---

Rhino Rally - Rhino Rally transports guests aboard an off-road adventure through the wilds of Africa, blending up-close animal encounters with an unpredictable safari competition. Naviage a white-water river across a badly compromised pantoon bridge with 17 other passengers in the middle of hungry African gators.
---

---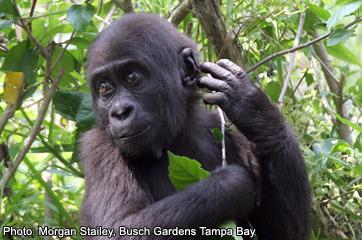 Myombe Reserve - Enter the lush forest where gorillas and chimpanzees can be viewed in the naturalistic habitat of Myombe Reserve. Tour the Great Ape Domain amid waterfalls and through shrouds of mist and fog to get an up close look at these majestic primates.
---
Edge of Africa - Have the most intense wildlife experience outside of Africa here at Busch Gardens Tampa Bay. Immerse yourself in the culture of the African continent as you experience its majestic wildlife as you only dreamed of before.
---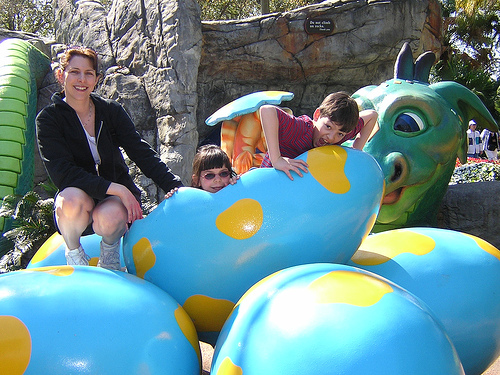 Land of Dragons - Includes our three-story-tall tree house, an enchanted forest, one-of-a-kind slides, a gentle waterfall, wonderful rides and, of course, friendly dragons! The Land of the Dragons' stage features the Dumphrey's Special Day Show.
---
Congo River Rapids - MUST SEE!- Encounter the swift-flowing white water of the Congo River Rapids. Spin through a geyser, face an ominous waterfall and other thrilling obstacles in a 12-person raft. You must be at least 42" to ride this ride.
---

---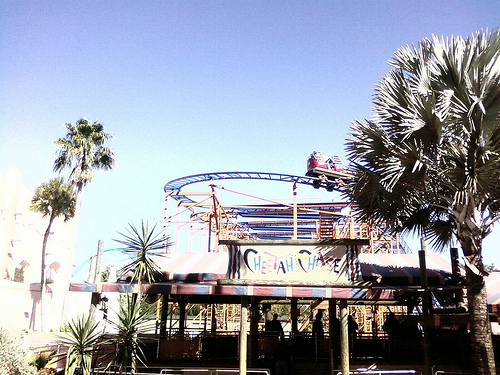 Cheetah Chase - Challenge the crazy curves and hairpin turns of Cheetah Chase. This five-story family coaster takes you on a twisting, turning adventure in the heart of exotic Timbuktu
---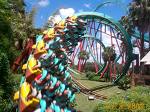 Montu - MUST SEE! - Feel the ultimate rush on Montu -- one of the tallest and longest inverted roller coasters in the world! Experience the thrill of an inverse diving loop and a 60-foot vertical loop while you endure speeds of over 60 miles per hour and a G-force of 3.85! Height Restriction: Minimum of 54" tall. Other restrictions may apply.
---
Stanley Falls - Cool off on Stanley Falls. Our Log Flume whisks your whole family through a splashing trip ending in a 40-foot drop that's sure to get you soaked!
---

Tanganyika Tidal Wave - Watch out when your seemingly tranquil jungle journey aboard a 20-passenger boat ends with a sudden plunge down a 55-foot drop, creating a tidal wave that gets everyone sopping wet on the Tanganyika Tidal Wave!
---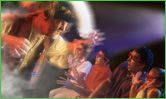 Pirates 4-D - MUST SEE! -Busch Gardens Tampa Bay's newest adventure is an exciting 4-D theater attraction. The family-friendly adventure film combines state-of-the-art 3-D visual effects with multi-sensory surprises to immerse the audience in an imaginative and engaging film. Based on an original story by popular children's horror author R.L. Stine, the film stars veteran actors Christopher Lloyd, Michael McKean and Lea Thompson.
---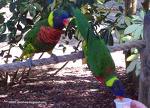 Serengeti Plain - MUST SEE! - The enhanced Serengeti Plain features hundreds of exotic African animals that can be seen from the Serengeti Express Railway, Skyride, Serengeti Safari and various walkways, within naturalistic environments featuring rolling landscapes, elevated terrain and lush vegetation. The enhanced Serengeti blends portions of the Plain's eastern and western habitats into its southern acreage adjacent to the Edge of Africa animal attraction, creating one seamless, 29-acre environment. Additions to the new environment include expansive berms, the largest of which is four acres; tiered and open landscapes covered with native and African grasses, scrub trees and shrubs; rock outcroppings and bluffs replicating natural formations; and naturalistic creek beds and mud banks. More than 150 species of vegetation are represented. In addition to landscape enhancements, a new behind-the-scenes 3,600-square-foot giraffe barn has been constructed and connected to a 10,000-square-foot habitat designed for additional animal care. The habitat also features an off-view 6,000-square-foot hoofstock habitat.