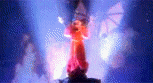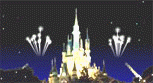 Medieval Times Dinner Show
Call 407-396-7508 or 866-966-7508 to order your tickets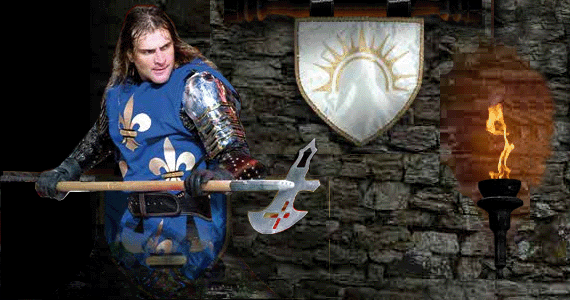 Medieval Times Dinner - Orlando Florida - Journey Through Time...to the age of chivalry and knighthood. At Medieval Times Dinner & Tournament you'll step back in time to an exciting evening of quality, family entertainment based upon the glory of the Middle Ages. Guests experience spectacular pageantry, dramatic horsemanship, tournament games, breathtaking swordplay and romance while feasting on a four-course meal served in true medieval pre-silverware fashion. The experience culminates in an authentic jousting tournament between the six brave knights of the realm. Cheer them on as they fight to the finish!
---

---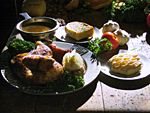 Medieval Times Bill of Fare
Garlic Bread

Vegetable Soup

Roasted Chicken

Spare Rib

Herb-Basted Potato

Pastry of the Castle

Beverage
---
Medieval Times Horses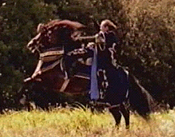 Each spring the staff at the Medieval Times Chapel Creek Ranch in Sanger, Texas celebrates the addition of several Andalusian foals to its facility. The 241-acre ranch, owned by Medieval Times Dinner and Tournament, has been breeding rare Andalusian horses since 1992. The horses, known for their glorious physique and noble temperament, are bred and trained for use in the seven Medieval Times dinner attractions located throughout the United States and Canada.
As weanlings, the horses are introduced to halters and lead ropes. They are petted, brushed and grow accustomed to being in close proximity to people. The Andalusians are also implanted with a microchip to assure positive identification the rest of their lives.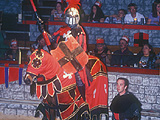 At age two, the horses are old enough to begin simple training. This first training includes: lunging, work on long reins and introduction to saddle. At three years of age, basic training is completed and the horses are transported to a Medieval Times location. At Medieval Times, a Master Trainer teaches the horses advanced level dressage and life as a featured performer begins.
Since the preparation from birth to show takes many years, the Chapel Creek Ranch is an ideal location in the central United States from which to supply the seven North American dinner-theater locations. With more than 300 horses currently in the Medieval Times system, the Chapel Creek Ranch plays an important role in a company dedicated to the preservation of the Andalusian breed.
---

---
Jousting, Sword Fighting, Chivalry and More
What does it take to become a Medieval Times Knight? All of our future Knights begin as squires. Squires endure more than 375 hours of intense training before achieving Knighthood.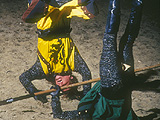 Agility and strong gymnastic abilities are required of today's Knight. It requires precision timing and coordination between both Knights to keep a battle exciting and safe. One of the more difficult single skills a Knight learns is the ring pierce.
The javelin toss is performed while the horse is at a full gallop. During the joust, riders and horses meet at over 35 MPH. Lances often explode upon contact. In order to succeed, a Knight and his horse must work as one.
All the horses are well trained in traditional 11th century maneuvers. These four-footed warriors are legendary for their ability to excel in a battle. Fully equipping a Knight and horse create a striking visual effect.
---
The Weapons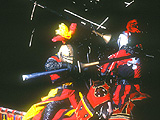 A lance is a weapon used in battle or tournament. A knight uses a lance to knock his enemy from the horse. After the sword, the lance is the knight's primary offensive weapon.
A mace is a heavy weapon made of a wooden handle with a quatrefoil-shaped head. The mace delivers a crushing blow to an opponent's armor with a single strike.
Medieval Knights use two types of swords. The Espada is a one-handed, short sword used on horseback or in combination with a shield or another weapon. The Mandoble is a longer, heavier, two-handed sword used by knights on foot to deliver powerful blows.
This weapon is a cross between a battle-axe and a spear. It is used by foot soldiers to keep the enemy at a distance. A point is added to the back of the weapon so if the enemy was missed on the forward stroke, he could be stabbed with a backward thrust.
The bola is a spiked ball attached to a wooden handle by a short chain. It can be used from atop a horse or on foot. When swung by a knight, the ball reaches high speeds and delivers a powerful blow to the opponent.
---