Kennedy Space Center - Titusville Florida
- John Glenn, Neil Armstrong, Sally Ride and Jim Lovell are just a few names of the brave men and women that have launched into space from Kennedy Space Center, and now it's your turn to become a part of the space program. Your full day of exploration includes real space hardware, authentic attractions, inspiring exhibits and hands-on experiences that will make KSC the highlight of your Florida vacation. The incredible accomplishments of the Apollo moon program return to life in the amazing Apollo/Saturn V Center. In back-to-back IMAX® theaters, you'll feel the thrill of space exploration on five-story screens as you "float" right alongside NASA Astronauts. On our guided tours into exclusive areas, you'll get a behind-the-scenes look at Kennedy Space Center's working space flight facilities. Strap in and experience interactive space flight simulators at the Astronaut Hall of Fame. Touch a real piece of Mars, see gigantic rockets, board the Space Shuttle Explorer and much more.
Magic Kingdom - Epcot - Animal Kingdom - MGM - Universal - IOA - SeaWorld - Busch Gardens
Astronaut Encounter - MUST SEE! - Fewer than 500 men and women – of the Earth's six billion people – have ever flown in space. But each day at Kennedy Space Center Visitor Complex, guests get the rare opportunity to meet a real-life member of NASA's Astronaut Corps. The daily briefings allow plenty of time for guest interaction. So bring your questions – and your camera.

Astronaut Hall of Fame - Dedicated in May 1991, the Space Mirror is a high-tech national monument to our fallen heroes. Visited by more than 20 million people, the Space Mirror is a project of The Astronaut Memorial Foundation and was paid for by Florida residents who purchased special Challenger mission automobile license plates.

IMAX Space Films - MUST SEE! - In two giant IMAX® theaters, the dream of space flight comes alive with a wall of sound, five-story screens and realistic 3D special effects. Dramatic footage shot by NASA Astronauts during actual missions will make you feel like you're floating right alongside them. "Space Station 3D" – Narrated by Tom Cruise, this 3D film puts you right in the middle of a massive international undertaking as Astronauts and Cosmonauts construct the International Space Station 200 miles above Earth. "The Dream is Alive" – Get an insider's view of the intriguing Space Shuttle program. Filmed by Shuttle Astronauts and narrated by Walter Cronkite, this film captures the awesome beauty and thrilling sensations of space flight, as well as the daily business of living and working in space.

Space Shuttle Plaza - In the Space Shuttle Plaza, guests are met with a jaw-dropping, full-sized NASA Space Shuttle replica - Explorer. Here you can experience how Astronauts live and work aboard real spacecraft. Sharing the plaza with Explorer are the other components needed to launch the orbiter: a huge external fuel tank and twin solid rocket boosters. Next to the Space Shuttle Explorer is the Launch Status Center, where visitors receive live briefings on NASA launch and space flight activity.

International Space Station Center - Now it's your turn to climb aboard the International Space Station on the NASA Up Close Tour. The International Space Station is "the dream that seemed impossible" - the most ambitious space program since the Apollo moon landings. This fascinating facility gives you an up-close glimpse inside the actual facility where NASA is preparing the real components of the International Space Station - the largest, most complex structure ever to be placed into orbit. Enter the full-scale mock-up of the Habitation Module and see the facilities that space station crewmembers will use for living, sleeping and working quarters. An elevated observation room overlooks the actual processing bay where each space station component is checked out, processed and readied for its trip into orbit.

Gift Shops - The Official Kennedy Space Center Space Shop is the world's largest store devoted entirely to space and NASA memorabilia, gifts and collectibles. There are over 8,000 space-related items that will entice space enthusiasts of all ages - from the first-time visitor to the serious collector. Items are available online and at the Visitor Complex.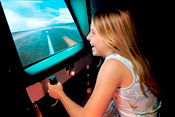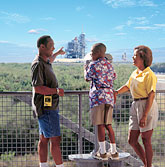 Astronaut Memorial - Dedicated in May 1991, the Space Mirror is a high-tech national monument to our fallen heroes. Visited by more than 20 million people, the Space Mirror is a project of The Astronaut Memorial Foundation and was paid for by Florida residents who purchased special Challenger mission automobile license plates.

Mad Mission to Mars - MUST SEE! - Using the comedic antics of Professor Pruvitt, and his wacky colleagues, Kelvin and WD-4D, "Mad Mission to Mars 2025" transforms the audience into "astronaut trainees." Live action, hands-on fun, stereoscopic 3-D computer animation and spectacular theatrical effects-including artificial winds and splatter cannons-combine to take guests on a unique and educational voyage through the cosmos.

Rocket Garden - Travel back in time and history in the newly re-developed Rocket Garden. Dramatic new lighting brings these historic rockets back to life with an adventurous and patriotic scheme, highlighting each fuselage with brilliant white uplight, bathing the site with techno-blue accents and heating the engines with flickering red-orange light. This lighting restores these rockets to historic brilliance, and presents them in dramatic context that captures their "blast-off" glory. Here visitors can experience the very same Redstone, Atlas and Titan rockets that first put NASA Astronauts in space. Climb-aboard Mercury, Gemini and Apollo capsules give the young - and the young at heart - an idea of the cramped quarters America's Astronaut pioneers endured. Free tours of the Rocket Garden are given at 10:30 a.m. and 4:30 p.m. daily.

Apollo / Saturn V Center - Millions of people held their breath while a single man stepped onto the moon's surface – a journey that began just a short distance from where the Apollo/Saturn V Center stands today. For those who remember, the event remains in their minds just as those footprints remain in the lunar soil. Here, in a spacious facility featuring a massive, real Saturn V rocket, it returns spectacularly to life. The Apollo/Saturn V Center is a tribute to the Apollo Astronauts and the machines that got them there – and brought them safely home.

Lunch with an Astronaut - One of the most popular programs at Kennedy Space Center, "Lunch with an Astronaut" gives visitors a one-of-a-kind experience to meet a member of NASA's Astronaut Corps and get their autograph. Held once daily during lunch hours, these sessions offer an up-close and personal opportunity to share in the excitement of space exploration through the eyes and personal stories of one of NASA's best, all while enjoying a delicious meal. An impressive roster of Astronauts have appeared since the program's inception in 2001, among them Wally Schirra, John Glenn, Jim Lovell, Gene Cernan, Walt Cunningham, Story Musgrave and Jon McBride. Call 321-449-4400 to make a reservation. Seating is limited
Not all attractions listed are available with a standard access pass.