Wonderworks - Orlando Florida
-
Visitors will experience the trembling of earthquakes, be blown away by hurricane-force winds and surround themselves with some of the most unique virtual reality experiences available anywhere in the United States. The most eye-catching feature of WonderWorks is the attraction's dramatic exterior, a three-story tall, classically-designed building that appears to have landed, upside down, atop a 1930s era brick warehouse. WonderWorks is a fun-filled interactive attraction featuring a myriad of hands-on experiences and activities. Our exhibits utilize some of the most sophisticated graphic and audio presentation techniques available. Activities range from a realistic, simulated earthquake to virtual reality. Throughout WonderWorks, you will actively participate in some of the most imaginative displays and exhibits found in any facility in the United States.
Magic Kingdom - Epcot - Animal Kingdom - MGM - Universal - IOA - SeaWorld - Busch Gardens
WonderWorks is an amusement park for the mind, creating a cutting edge, interactive experience for people of all ages. Creating an environment where reality and fantasy come together, this revolutionary concept combines science and entertainment in over 100 hands-on learning exhibits. Throughout WonderWorks, visitors can actively participate in some of the most imaginative displays and exhibits found in any facility in the United States. Here are Just a Few of the Amazing Exhibits Awaiting You:
Wonder Wall - Make an impression of your body with over 40,000 pins
Bed of Nails - Lay on 3,500 nails
Roaring Sounds - Learn how a lion communicates in the wild
Bridge of Fire - This electrifying experience allows visitors to literally interact with electricity. Walking across this bridge will make your hair stand on end, LITERALLY! 250,000 Watts of static electricity is transferred to your body, a hair-raising experience.
Virtual Hoops - Utilizing the magic of blue screen cinema technology, a visitor's image is actually placed into a basketball game to challenge a much taller defender. Others can watch on the Big Screen as he or she tries to score as many hoops as possible.
Strike a Pose - Visitors can actually leave their shadows behind in this unusual experiment. Through phosphorescence, this exhibit retains the image of the visitor on a special wall for several minutes giving the impression that you walked away and your shadow forgot to.
WonderCoaster - Design the Roller Coaster you have always wanted to ride but couldn't find at any fair or amusement park, then hop on! The WonderCoaster has the ability to turn 360 degrees in EVERY direction. It's even air-conditioned!
Bubble Lab - Create giant bubbles in the fluid dynamics lab. Even put yourself inside a Bubble!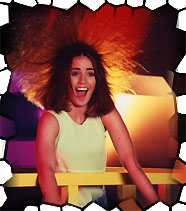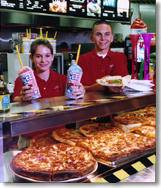 The Outta Control Magic Show provides a one-of-a-kind entertainment experience to the Orlando area with non-stop audience participation. Shows are presented nightly at 6:00pm and 8:00pm.
his hilarious show combines high-energy comedy improvisation with spectacular magic to thoroughly entertain audiences of all ages. During the show, enjoy unlimited fresh hand-tossed pizza, popcorn and unlimited beer, wine and soda. The 90-minute experience will keep you on the edge of your seat and tickle your funny bone every 8 seconds.
The production features nationally recognized entertainers Tony Brent and Danny Devaney who are sure to keep you busting at the seams.