Blizzard Beach Waterpark at Walt Disney World
Call 407-396-7508 or 866-966-7508 to order your tickets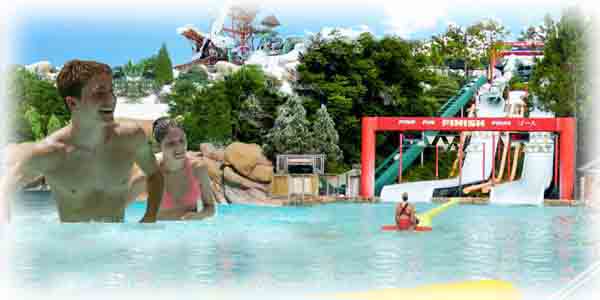 Blizzard Beach - Walt Disney World - Orlando Florida - Disney legend has it that after a freak winter storm blanketed the area with snow, Florida's first ski resort was born. When temperatures returned to normal, the powdery snow turned to slippery slush. Slalom courses, bobsled and toboggan runs became downhill waterslides. The chair lift carried swimmers instead of skiers. The ski jump became the tallest, fastest water slide in the nation. You are invited to what has

become Disney's Blizzard Beach, the most slushy, slippery, exhilarating water park anywhere!
---
Blizzard Beach Attractions
Disney Water Park Blizzard Beach
As one of the top waterparks in the world, blizzard beach has the tallest and fastest water slides some reaching up to 60 mph from a vertical summit. Standing at 120 ft high, these high-speed slides will produce a heart-pounding adrenaline rush that will stresh your senses to the limit.
---

Downhill Double Dipper - MUST SEE! - Shoot the tube and blast down the slopes at 25 miles per hour in these side-by-side speed slides. Hop on your inner tube and disappear into a tunnel before remerging seconds before your splashdown. These two parallel 230-foot-long racing slides are a slippery good time.
---

Teamboat Springs - MUST SEE! - Bring the whole gang aboard one of the world's longest family raft rides. Twelve hundred feet of white water and rushing waterfalls make the twisting, turning journey from the top of the mountain to the bottom a giggling, screaming adventure. Three- to six-passenger inner tubes ensure that the family that rafts together, laughs together!
---

Cross Country Creek - Kick back and "chill" in an inner tube on this gently meandering river that flows around the entire Park. Bask in the warmth of the sun. Use the Creek as a transportation system to effortlessly get from one area of the Park to the next or just ride along and watch the world drift slowly by. Go with the flow!
---

Melt Away Bay - Take a dip in the gently bobbing waters of this bay that is fed by the melting snow run-off from Mount Gushmore. The expansive one-acre pool is great for those who want to wade in and just get their feet wet or take an invigorating swim. Pounding waterfalls make a great retreat when you really need a refreshing plunge.

---

Runoff Rapids - Take your choice of three incredible inner tube rides that careen down the hill into a refreshing plunge pool. Each flume is different, so try all three! One is completely enclosed, while the others are open. All three twist and turn on tantalizing water-logged journeys down the banks of Mount Gushmore. It gushes with fun!
---

Snow Stormers - Ready. Set. Sled! Speed down the slopes in switchback slalom-style racing slides. Bank through the curvy path marked by ski-type gates. Choose from one of three different downhill racing courses. Hop on your mat and compete with your friends. Meet in the plunge pool at the bottom of the course and hop out of the water to start all over again. The race is on!
---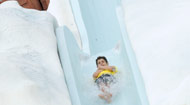 Slush Gusher - MUST SEE! - Speed down the 90-foot tall Mount Gushmore in a slush-banked mountain gully. Two humps create brisk fun-filled ups and downs on your journey to the bottom of the powder-capped mountain. Launch down the slopes in the shadow of Summit Plummet. There's "snow" where else like it.
---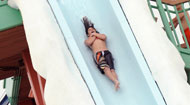 Summit Plummet - MUST SEE! - Look out below! Dare to take the vertical plunge from the top of the world's tallest and fastest free-fall body slide. At an exhilarating height of 120 feet, this sky-scraping ski jump of a thrill ride drops you down the slopes of Mount Gushmore at a speed-limit-breaking 55 miles per hour for a 360-foot long trip back to the lower atmosphere. The mountain beckons — don't be a "flake."
---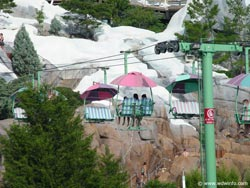 Chairlift - Scale the slopes in a colorful, fanciful wooden chair lift with umbrellas and dangling skis. Hop aboard this one-way access to the top of Mount Gushmore for access to Summit Plummet, Slush Gusher, Teamboat Springs, Toboggan Racers and Snow Stormers. Be a sport and ride the chair with flair!
---

Tike's Peak - Little kids are invited to have mountains of fun in this water play area. The youngest Blizzard Beach goers can slide, splash and swim while sunning in the "snow" in this spot reserved just for them. Gentle body slides, an inner tube slide, interactive fountains, pop jets and a wading pool ensure a chillin' good time

.
---

Ski Patrol Training Camp - Make a real splash at this training camp play area, designed especially for pre-teens. Swoosh down inner-tube slides, slide hanging from a T-bar, whisk down curvy slides and take a challenging ice-flow walk across floating icebergs. It's the coolest fun on the mountain!
---

Toboggan Racers - Race in one of eight side-by-side lanes that toboggan down the mountain. Hang on to your mat and head down the slopes. Exhilarating dips make your charge to the finish line an avalanche of fun. Ready. Set. Snow!