Port of Call Feast
As a special guest of Princess Anita, you are invited to start off your evening with a bountiful appetizer buffet. Enjoy the King's assorted salads, tasty snacks, and special sauces. The festival buffet is prepared to whet the appetite of royalty and commoner alike. But, save room because there is a feast awaiting that can satisfy even the hungriest of pirates!

Dinner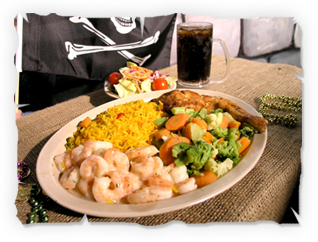 Matey Bread
An old favorite of the shipmates. Delicious bread baked daily and served piping hot (or the cook gets keel-hauled).
Treasure's Chicken
Tender portions of roasted chicken carefully marinated in a savory lemon-pepper sauce. A genuine treasure.
Buccaneer Beef
Swashbuckling cuts of tender beef cooked to perfection by our award-winning chefs to satisfy the meanest pirate on the high seas.
West Indies Rice
The taste of the Caribbean – special yellow rice sautéed in chicken broth and seasoned with select herbs and spices from the West Indies.
Walk-the-Plank Mixed Vegetables
Deprived of fresh food when at sea, pirates love their vegetables. An assortment of mixed vegetables good enough to walk the plank for.

Princess Anita's Royal Dessert
A dessert fit for royalty – apple cobbler a la mode.
Caribbean Coffees
Served at the Buccaneer Bash, after the show.
Vegetarian and Captain Kid's meal available.
Captain kids menu includes chicken fingers.
Beer, wine and softdrinks served during the show.