Typhoon Lagoon Waterpark at Walt Disney World
Call 407-396-7508 or 866-966-7508 to order your tickets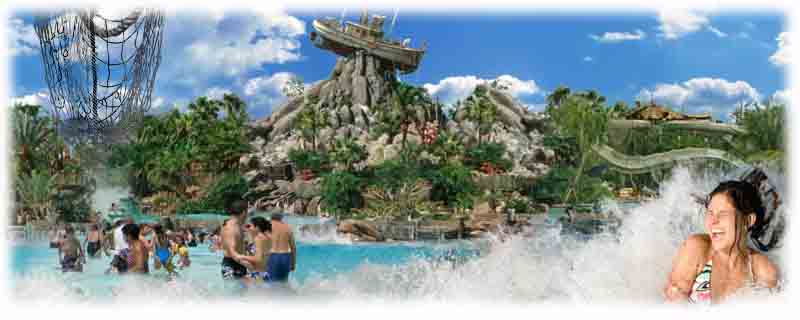 Typhoon Lagoon - Walt Disney World - Orlando Florida - Disney legend has it that a furious storm once roared across the sea, hurling surfboards into trees, blowing small boats through roofs and impaling a shrimp boat on a peak of a great volcanic mountain. Left in the typhoon's wake are twisting tides, roaring rapids, wonderful waterways and relaxing rivers. Whether you are navigating the nine exhilarating waterslides and streams or conquering one of the world's largest artificially created waves, Typhoon Lagoon promises the most wild, wonderful and wet water adventure known to man or fish.
---

---
Typhoon Lagoon Attractions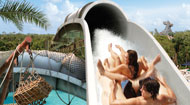 Crush 'N Gusher - Immerse yourself in this exclusively soaking experience as you navigate through one of this most thrilling water attractions. Glide down waterslides in a raft that carries you on a suspenseful journey through breathtaking gushing torrents of water. Experience a shocking surprise as water floods your rafta round every bend as you attempt to navigate through spillways, tunnels, gratos and twists.
---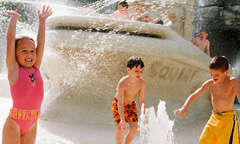 Ketchakiddee Creek Romp on sloshy slides, fun-filled fountains, watery whales, slippery seals, an interactive lushly leaking tugboat and a mini ripply-rapids ride. Little squirts love the adventures that are just their size in this children's water play area. It's a little wateropolis of splashy fun!
---
Keelhaul Falls - Take a tropical whitewater adventure as you slip and slide your way past incredibly craggy scenery in this rush of a twisting trip. Grab your inner tube and set off down the mountain, as if you could stop! It's a roaring rapid ride through a cavernous palm-lined course that cuts a curving path to fun!
---

Humunga Kowabunga - MUST SEE! - Triple your pleasure by riding one of these three speed slides that send adventurers zooming in a blaze of water to a splashy surprise ending. Whip downhill — dropping five stories in seconds — in these enclosed flumes, where you can't see where you're going until you get there! Zoinks!
---

---
Shark Reef - Swim into a tank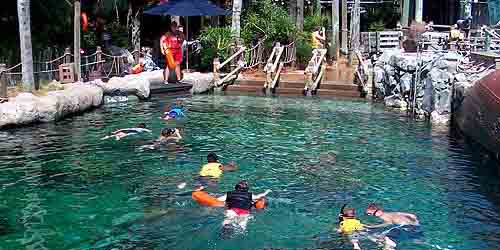 with real live sharks and schools of tropical fish. This saltwater adventure takes place on a reef around an overturned sunken tanker. Non-swimming Guests can even go inside the tanker and observe the sharks through portholes. Sink your teeth into this exciting excursion!
---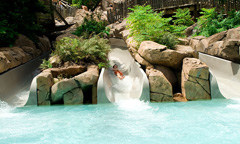 Storm Slides - Race 30 miles per hour down a winding waterway on your way to plunging into a refreshing pool. Choose from three high-octane body slides: the Jib Jammer, Stern Burner or Rudder Buster. This tangled trio of twisting waterslides offers waves of excitement, caves, waterfalls, geysers and a more than three-story drop. It's a "swell" time.
---

Gang Plank Falls - MUST SEE! - Get carried away aboard these four-person giant inner tubes for the whole family! Enjoy the view on your way down, but be on the look out for special water effects and rock formations. Whoosh through caverns dripping with water on this crazy curvy course, and laugh your rafts off!
---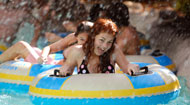 Castaway Creek - MUST SEE! - Ease into the tropical retreat of this meandering creek that winds its way around the entire Park. Relax on an inner tube as your gentle journey takes you through cool mists and grottoes, rain forests and waterfalls. Use this attraction as a means to get around the Park easily or as a way to kick back and watch the world go by.
---

---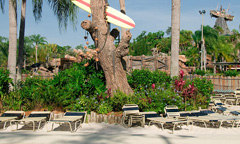 Sandy White Beach - MUST SEE! -Park yourself on the beach and you'll have it made in the shade. Hammocks, palm trees, great water views and close access to food and beverages may make this relaxing stretch of sand all the tropical vacation you'll ever need. Let your cares drift away as you sink into the sand and waste away the hours, or make this a stop between all of the active attractions at the Park. Either way, you're sure to enjoy yourself because, after all — life's a beach.
---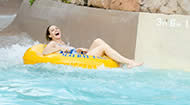 Mayday Falls - Plunge into the fun on the longest waterslide in the Park. Travel through caves and waterfalls aboard your own personal inner tube as you swirl down the mountain in the shadow of the famed stranded shrimp boat, "Miss Tilly." Grab your raft — the swervy, curvy watery good times are waiting. It's a rush!>
---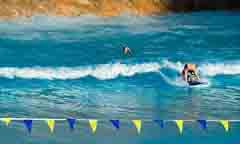 Surf Lessons - Hang ten in the waters of Typhoon Lagoon. Have the bay to yourself before the Park is open so that you can master the fine art of shooting the curls. The world's largest wave machine produces surf every 90 seconds. The size of the waves can be adjusted up to six feet in height. Professional instructors and small classes help anyone from a novice to a pro improve form during a two-hour session. It's totally tubular!
---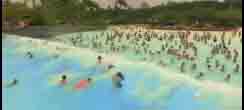 Surf Pool - Take a dip in the azure blue waters of one of the world's largest wave pools. The surf's up all day long as body-surfing enthusiasts catch waves toward the sandy shore. Dive into the excitement, languish in the gentle waters farther from the action or lounge on the white sand beaches. Whichever you choose, you can always listen to the shrieks of delight every time a wave heads for shore. Surf's up!