Wet N Wild Waterpark Orlando
Call 407-396-7508 or 866-966-7508 to order your tickets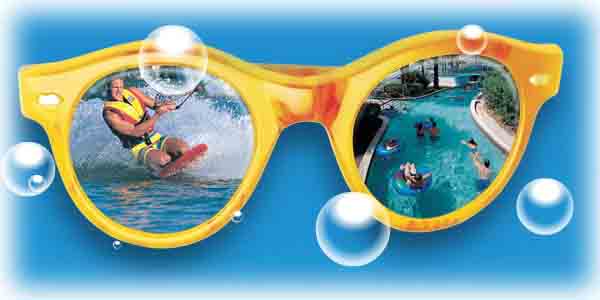 Wet And Wild - Kissimmee Florida - voted by Amusement Business magazine as America's number one water park, features a full-day of fun for the entire family. Also honored by Aquatic's International as the first true water park, Wet 'n Wild's world-class signature thrill rides and quality service offer something for fun-lovers of all ages.
---
Fiesta San Juan every June - commerating a Latin Culture celebration, Wet 'n Wild will freature its 10th Annual Fiesta San Juan each June. San Juan heats up at 12:00pm with activities for the entire family to enjoy and continue until 12 am when guests can delight in the tradition of "The Night of San Juan." Taking a big splash in the water, savour latin food, sing to live music and dance to the rythyms that reflect Latin heritage theme. Enjoy local live entertainment personalities hosting various activities including games and prizes throughout the day.

Wet 'N Wild Orlando Florida
Wakeboarding - One of the fastest growing water sports is now at Wet 'n Wild! Beginners and experts alike can show off their techniques on the 1/2 mile WakeZone cableway. And newbies can watch from the dock to get pointers before giving it a try. Use our wakeboards or bring your own. Helmets and lifevests provided.
---

Mach 5 - Choose f rom three different flumes totaling 1,700 feet that twist and turn over different thrill courses ending in an exhilarating splash below.
---

---
Hydra Fighter - The Hydra Fighter is the first water ride in the Orlando area that allows guests to create their own unique water ride experience. Guests are seated in back-to-back swings equipped with water cannons. By regulating the water pressure, guests control how high and fast the swing goes.
---
The Storm - Give Wet 'n Wild's all-new swirling body coaster a whirl! Reach maximum speed as you drop from an elevated chute into a giant open bowl where you spin in circles to a splash landing! It's a raging ride that will blow you away!
---

The Black Hole - Grab a friend and battle time and space on The Black Hole. A two-person raft propelled by a 1,000 gallon-a-minute blast of water will send you and a friend on a 30-second, run-away journey through 500 feet of twisting, turning darkness.
---

---
The Surge - Up to five passengers begin their incredible journey from a six-story tower topped by a 50-foot high geodesic dome and go twisting and turning through almost 600 feet of exciting, banked curves.
---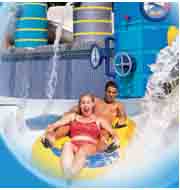 The Blast - Introducing Wet 'n Wild's raging new tube ride that will soak you to the core. This is no ordinary water ride - it's The Blast. Blasting water thrills, colorful icons and fun sound effects will stimulate your senses around the many twists and turns, explosive pipe bursts and drenching waterspouts that lead up to a final waterfall plunge.
---
Bubble Up - A large, multi-colored air-filled balloon, was created especially for kids. It is crowned with a mushroom-shaped fountain that sprays water over the Bubble Up's slippery surface. Children can climb to the top with the aid of a rope and then bounce down the side into the three-foot-deep landing pool while their friends squirt them with water guns.
---
Lazy River - Escape to old Florida as you float leisurely through reaching palms and flowering hibiscus on Wet 'n Wild's newly renovated Lazy River attraction. Drift away to "The Springs" and engulf yourself in thousands of bubbles. Drift further into the alcove of the spring to find an enchanting waterfall spilling down a rocky hillside. With rope bridges, lush orange groves and billowing mist - you'll never want to return to shore.
---

---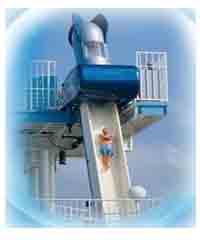 The Bomb Bay - MUST SEE! - Ranked as Florida's greatest thrill ride in Orlando Magazine, the Bomb Bay is designed to operate like the area in the fuselage of a military plane from which bombs are dropped. Enter a bomb-like capsule and feel the floor drop from beneath you as you take a heart-stopping plunge down a 76-foot high, nearly vertical slide
---
Knee Ski - Found only at Wet 'n Wild - the Knee Ski offers guests a chance to test their kneeboarding skills on a challenging course around Wet 'n Wild's lake. This cable operated, half-mile long course offers the perfect way to enjoy the warm Florida sunshine while participating in one of the area's popular water sports. Unlimited rides on this exciting knee ski course are included free with your Wet 'n Wild admission.
---
Der Stuka - Wet 'n Wild's first signature thrill ride, the Der Stuka, is a six-story speed slide which lets you "free fall" down a 250-foot slide, then coast to a stop along a 115-foot long water runway.
---

---
The Flyer - Seated in eight-foot long toboggans,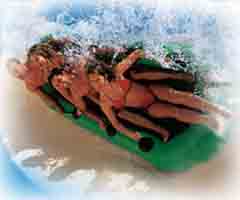 thrill-seekers begin their exciting descent from an awe-inspiring vantage point located 40 feet above the park. The momentum builds with the first curve of the course sending the toboggan twisting and turning as it circles above the park spiraling downward. This exhilarating journey sends passengers racing through over 450 feet of banked curves and speed-enhancing straightaways until they catch their breath and glide to a stop in the final run-out lanes below.
---
Bubba Tub - Family togetherness is the theme of the Bubba Tub where groups of four people will splash, laugh and scream with delight as they plunge down a six-story, triple-dip slide in a tube big enough for the entire family!
---
Kids' Park - Wet 'n Wild keeps kids 48 inches and under in mind when upgrading the already unrivaled Children's Playground. The center of the 3,200 square foot attraction received a makeover and has been completely renovated. Included in these enhancements was a 5-foot tall sand bucket that periodically fills with water, overflows and creates a waterfall from high atop a kid-sized sandcastle. Children can splash about on miniature versions of our adult rides and enjoy lots of thrills that are just their speed. The area's most unique characteristics include specialty tubes, beach chairs and tables designed specifically for children under 48 inches. Every detail of the area is carefully planned to make kids feel at home in their very own miniature water park.
---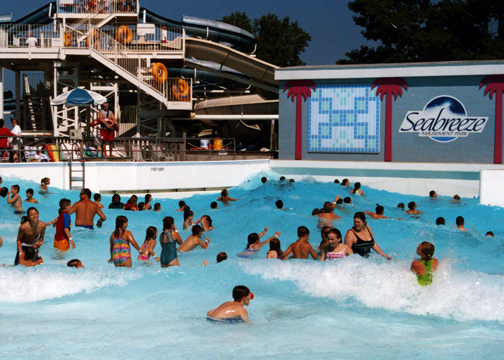 Wave Pool - The 17,000 square foot Surf Lagoon Wave Pool has been upgraded with a more powerful wave machine which can produce stronger, higher waves. A waterfall which splashes off the back wall of the wave pool has also been added to create an ocean of fun for swimmers of all ages.